Jun 30, 2022
When it comes to hiring, timing is everything. The healthcare industry is one of the fastest moving professions, so finding the right provider quickly means recruiters need top quality candidates to choose from. To help speed up the process, it is absolutely essential to pre-screen potential candidates before moving forward in the interview process. 
Pre-screening can ensure that every potential candidate considered for a role meets the basic job requirements before putting them through an extensive in-person interview process. When candidates are pre-screened, time is saved – and so is money. 
To help make sure every candidate meets your requirements, consider this pre-screening checklist.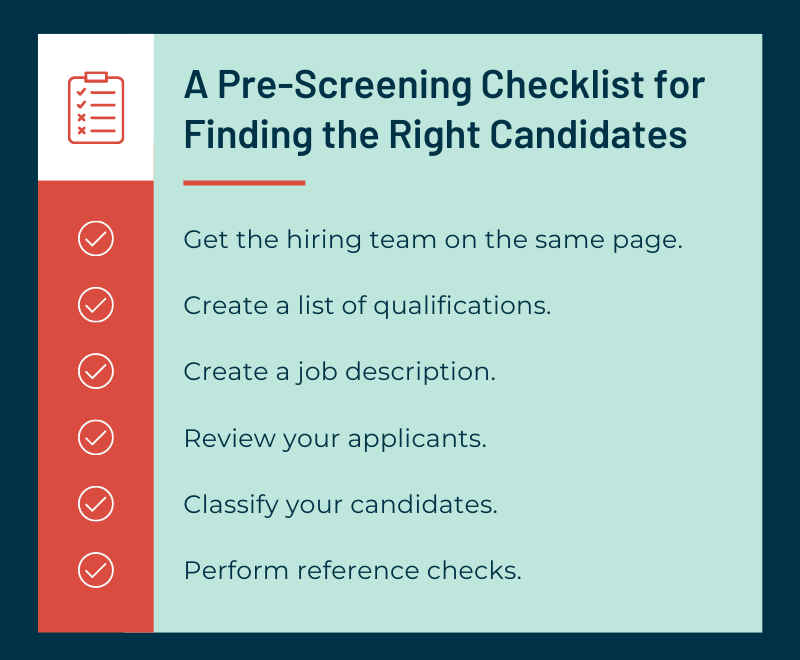 Get the hiring team on the same page
Have a frank discussion with the hiring team about what you're looking for in a provider. This can help differentiate between "must-haves" and "like-to-haves" for potential candidates. You can also discuss the background, experience, and personality type you're looking for. By having this discussion before you begin the process of screening, you'll save time and narrow your candidate pool.

Create a list of qualifications
A list of qualifications is the foundation for your job description. It should consist of five main buckets of information from your candidate. 
Educational background will reveal the minimum required qualifications as they pertain to education and certification. 
Work experience will help determine whether the position you're looking to fill is an entry, mid, or senior level. 
Technical skills like experience with a specific EMR will help determine an on-the-job learning curve. 
Soft skills will account for how the candidate will execute the job. 
Personality traits will help you determine a good culture fit. 
Once you've compiled this list, it's time to build a job description. 
Create a job description
Your job description should be based on your qualifications and should be extremely specific. The more specific you are in our requirements and experience levels, the more likely you are to receive candidates that meet these goals.

Inline's account managers collaborate with healthcare facilities during this process to also ensure a cultural fit at your facility. Including information about the job's location and the lifestyle a physician can expect when relocating can increase provider retention.

When creating your job description it can be beneficial to clearly articulate what you are looking for in a candidate. Phrases like "must have" help separate qualified candidates from under-qualified candidates who might consider applying for a job if they feel they might have a shot, even without the qualifications. 

Review your applicants
Once you start receiving resumes, it's time to review. If you are working with a recruiter, they can help you sort through the strongest on-paper candidates by recommending applicants that meet your specific qualifications.

Classify your candidates
Classifying your candidates essentially helps you separate the qualified from the under-qualified. You can easily break down who meets your requirements and who does not based on the qualifications list you created. However, you may come across some candidates that may not completely match your requirements, but have interesting experience that could potentially make for a promising candidate. Keep these on hand. They may be worth an interview.

Perform reference checks
Once you shortlisted a pool of candidates, perform reference checks. This will help you suss out any red flags that might've been difficult to identify on paper. This saves you time in the long run as there is nothing more frustrating than finding a potential candidate who looks great on paper, but might not have the best record or reputation. 
Once you have performed these pre-screening tasks, you'll be ready to begin the interview process. By having a strong job description based on concrete qualifications and classifying your candidates based on their references and experiences, your team can prepare themselves for the long hiring process ahead.

Fortunately, Inline can help shorten the hiring process by finding you the highest-quality candidates for the job, saving you time and money during the process ahead. If you're looking to a top healthcare professional, let Inline help you every step of the way. 
Learn more about how Inline can help you find the perfect match.