Ask the hiring manager at any healthcare facility and they'll tell you—at some point, they've worked with third parties to fill a provider opening at their facility. One of our clients reported working with as many as five firms at any given time during their search. It makes sense, right? If you have a larger group of people looking, you increase your chances of finding a provider. Not necessarily. 
The primary service claimed by most recruiting firms is sourcing. But what exactly is sourcing? And are these firms truly providing it? If you speak with a retained firm, contingent firm, or a database, they all define it differently. The chart below displays the different services provided by types of recruiting firms.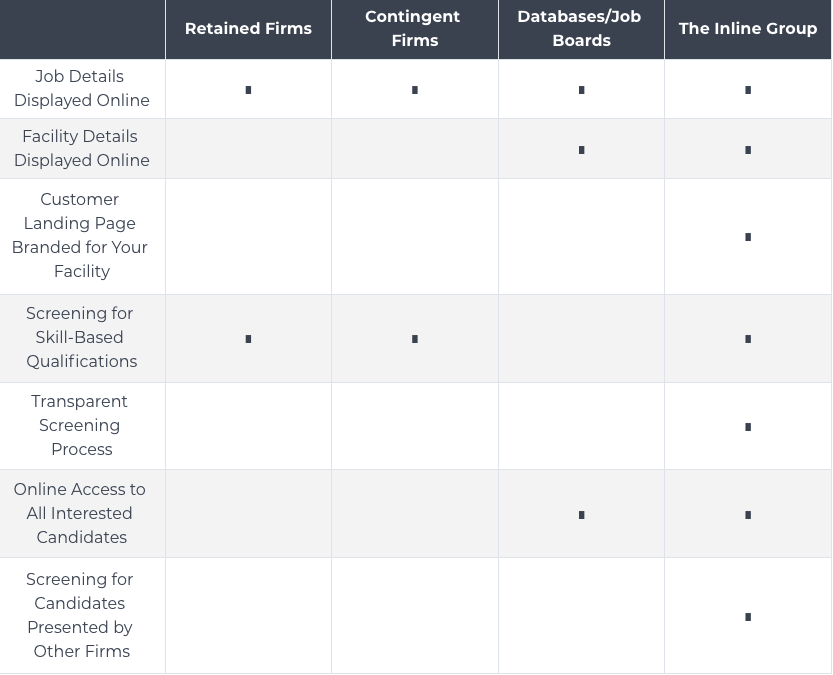 What does sourcing mean to a Database/Job Board?
Job boards are a cost effective way to gain exposure to a large quantity of candidates. The problem most in-house recruiters face with job-boards is the lack of screening. Receiving a list of 100 interested candidates is more of a problem than a solution. It becomes the facility's responsibility to sort through this list. Which for time-crunched in-house recruiters, this provides little help. Some job boards have begun offering "customized sourcing." This is an added on service, which you pay for by the hour. However, there are no guarantees the time you purchased will be spent on candidates who match your opportunity—meaning you'll just have to purchase more hours if your search goes unfilled. 

What does sourcing mean to contingent firms?
When a contingent firm sources candidates, their business model focuses on one thing: making a placement so they can get paid. While their screening process may check off your skill-based requirements, they don't dive deep into the cultural match between a candidate and your facility. In fact, Inline clients have asked about physicians presented by contingent firms. When our team searched for the candidate, we'd discover that our in-depth screening process had already removed them from the pool of top candidates. Here's what Alicia Bacsik, RN, BSN, and Office Manager with Pediatric Associates of Watertown had to say,

"...there were many times when I sent [Inline] a provider name to clear that was given by another recruiter. Within minutes, [Inline] would email the logical reason why that name had not been forwarded to our practice. I would have 'wasted' valuable time tracking down that name. Based on the information they had, the other recruiters should have known that it could not have been a match for our practice."

What does sourcing mean to retained firms?
Retained firms rely on placement fees acquired when you hire a candidate. This commission-driven payment model requires a certain level of secrecy throughout the screening process. For much of this process, retained firms withhold your facility's details from the candidate, and vice versa. This is what guarantees them a placement fee. While many retained firms offer a "guarantee period" for placements, these don't protect you as much as you think.
"For the past 5 years we have had an average of 6 physician recruiters working for us in our search for a pediatrician.  We were able to hire a physician at one point at the cost of $35,000.00. Unfortunately the doctor left our practice 2 weeks after the allowed time for a refund or credit."
If a recruiter isn't properly sourcing candidates, the quality of the candidates provided will suffer. Being thorough on the front-end of the sourcing process will not only save you time, but will build you a pipeline of candidates to use in future searches. Inline focuses on elevating your facility's exposure among candidates. You'll always have access to candidate details—and candidates will always have your facility's details.

What does sourcing mean to The Inline Group?
Inline has always existed to provide you with all of the help you need, without the uncertainty and hidden fees associated with much of our industry. When Inline sources candidates, we market your facility with your branding. While contingent and retained firms charge per marketing campaign, Inline always includes consistent marketing. Through consistent messaging, we build you a pipeline of candidates with strong engagement from the workforce.
Then, our team thoroughly screens for hard skills, soft skills, and company-culture compatibility. We don't just read through CVs—we build a relationship with candidates to learn who they are and what they want. By the time your team sees them, they're ready for the first interview. As a true sourcing partner, we ensure your hiring team only spends time on top-tier hiring responsibilities. 
"Their unique approach to staffing medical professionals of all kinds sets them way above the other groups. I can't even say 'peers' because I do not feel the other recruiters are in her league. They were able to do what no other recruiter has done for the past 5 years: find us a wonderful doctor that is a perfect fit for both of us!"

If you'd like to learn more about Inline's unique and comprehensive sourcing model, click here to schedule a consultation.